[18+] A ghostly desire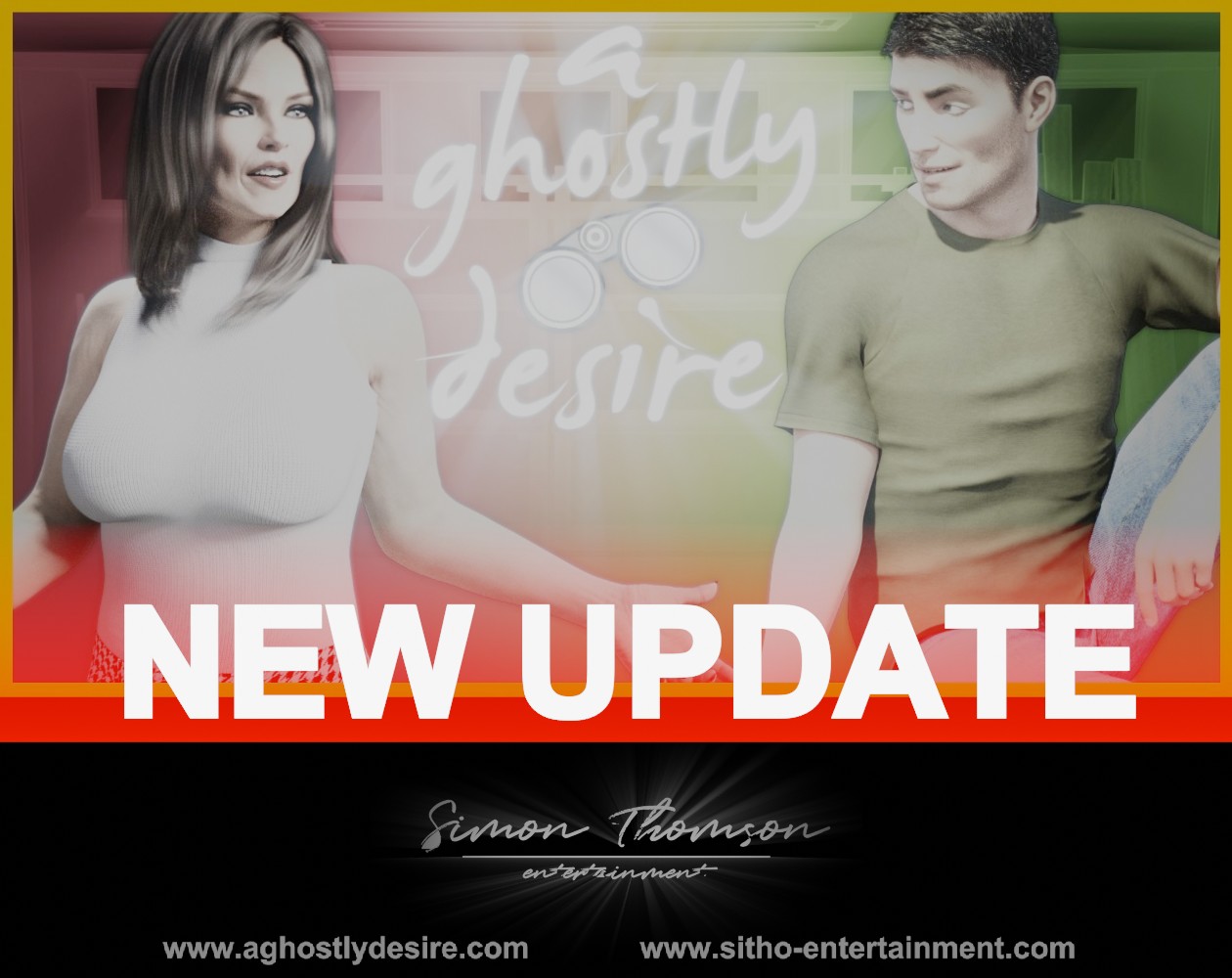 Welcome to this update post (16) for "a ghostly desire".
THANK YOU for your interest in this project!

Hi everyone, I hope you had a nice week so far!

Different than planned, I have spent the last 1,5 weeks
just with the 'Banking secrets' side quest line.
I had the basic story in mind, where I want to go with Emma
character-wise.
But after some trial and error within DAZ and a lot of testrenders,
I was not really satisfied with her and her 'type' of character.
What I had planned with her felt totally wrong while looking
at the storyboard and kind of 'not understandable' for players.
It felt like she has no tension at all, no one would care about her
character, because she's boring and almost silly based by her
unrealistic nature to act with MC

So.. I completely re-balanced this
basic situation between 'her story' and MC!
To summarize it without any bigger spoilers:

- it is a hidden quest (like planned)
- the quest is still skippable (like planned, skipping involves a punishment)
- it is seperated in two big parts
- you could choose 3 different paths to interact with her
- you can switch between these paths while playing..
(always based on your next action/choice)
(at all 11 different ways to play through this quest line
(ignore her totally, participate or be forced and based on this
different decisions YOU make, her interactions with you will also
be different and she'll remember later on)
- No matter HOW you play it, the final quest result will always
be the same (you won't miss any scenes),
but the way to explore it and to get to know (and feel) her
character is different!

That was a hell of a lot of work!! BUT playing it now feels
totally natural and realistic and it presents her character pretty well!
I hope it will be interesting to play for you guys and exciting
to maybe try the different paths.
It also allows me now to present her more often in future version,
because she will not be so closely tied to the bank anymore
(except if you skip the quest line ofc)

(the image below didn't make it into the game, but I still like it)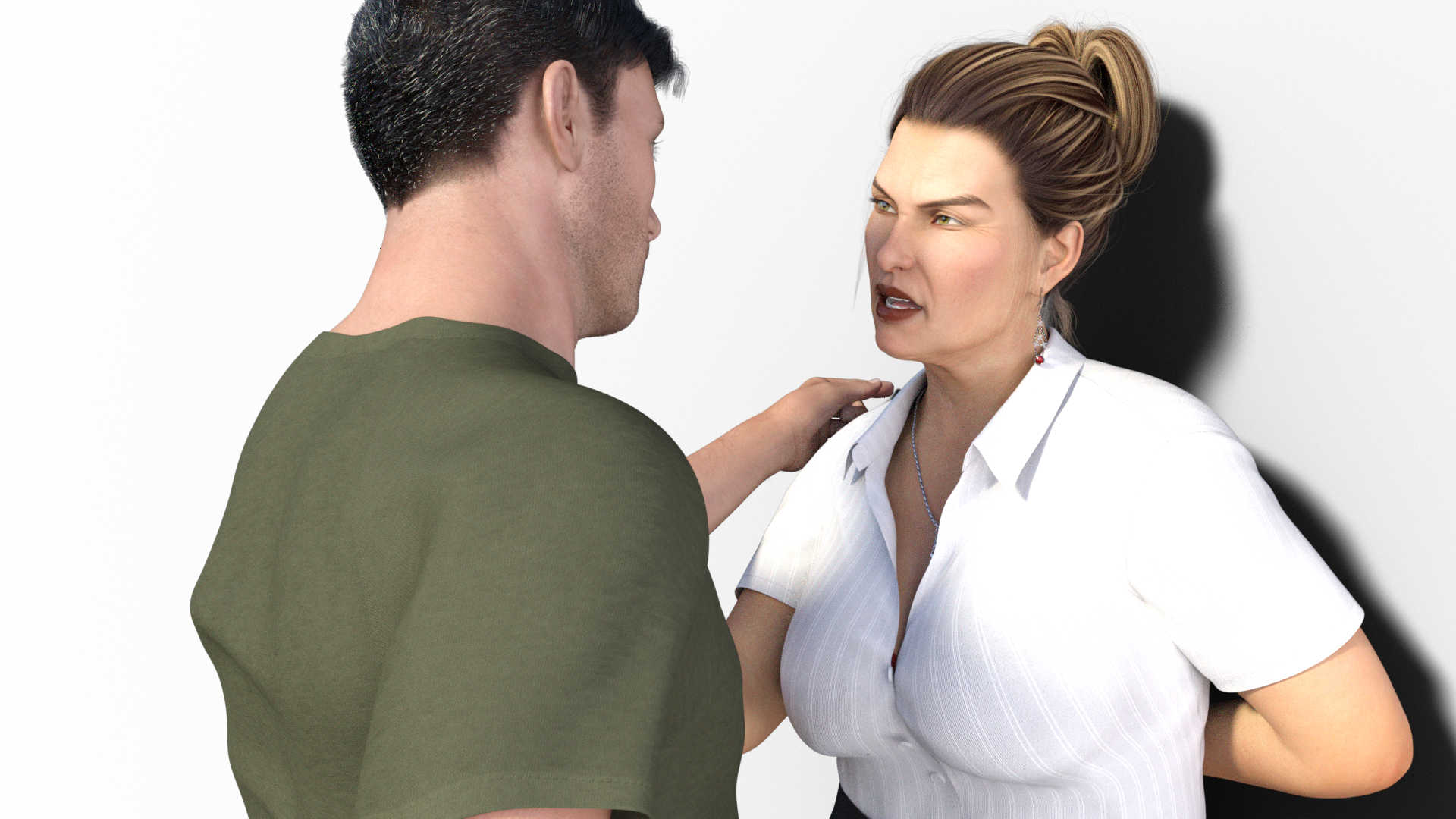 --> What else?
--> I expended the hidden quest line for Larissa's window a bit more.
Because I missed a bit of the "adventure feeling"
after the 'Larissa visit' quest line.
A point & click adventure needs here and there
a balanced act of seek & discover!

--> I already tried to finally integrate the screenjump function,
but I run into a huge issue which I didn't expect.
So I have to adjust every screen change again, to avoid errors while playing!
It is quite possible, that the screenjumping function is not useable within 0.4.
It just depends on how fast I solve the issue and getting this stuff fixed
(but the doubleclick walkingspeed is already scaled up, so that the
walking speed is much faster than before, even without screenjumping)

--> From now on, I'll be busy with Violet's Rise Bar!
The fifth of six big points for the alpha 0.4

--> I hope I found a good way to progress with old save games!
I have to try this from 0.4 to 0.5 if it works!
- For 0.4 you'll have the possibility to 'continue' a 'delivered' save game,
this means, you'll start after leaving the bank and go back to toolpoint to
buy the camera/tools.
That's the latest point to restart after adding the camera with 0.4 and
fixing the big issue with Dayna and peeking through the wall!
- Playing 0.4 until you reach the end of the version!
- If you hit the end, you'll get a notification!
- This will be the point to jump in for 0.5
- If that shouldn't work, I'll continue delivering save games within the
current version!

--> WHEN IS THE 0.4 COMING?
My current (most possible) plan is until end of july! +- 1 week #FingersCrossed
Even if the road map includes a lot of green.. it is still a lot of work to do!
(road map 07Jul21)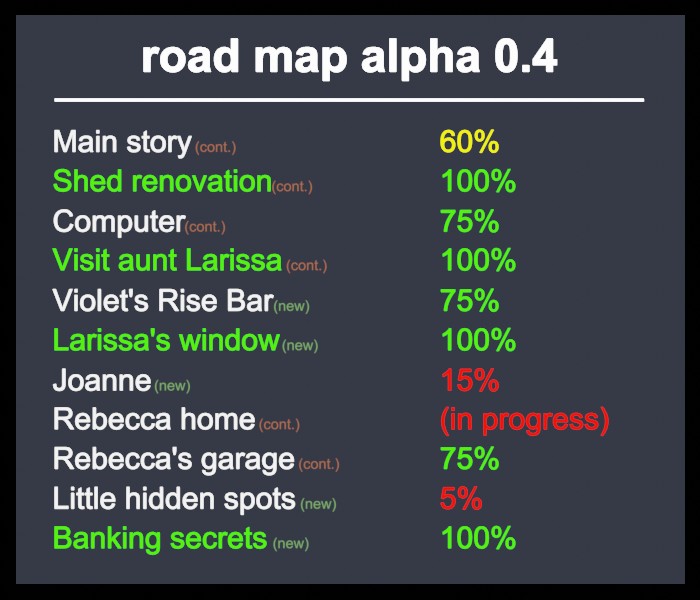 thank you everyone who is interested!
also please remember:
You could join discord:
** DISCORD **

and you can watch previews (spoiler) on patreon/subscribestar if you like!
--> Picture previews (sfw/nsfw) are available for:
Shed renovation, larissa's visit & banking secrets
** PATREON ** SUBSCRIBESTAR **

See you next time
best
~Sitho


Get [18+] A ghostly desire